Senior's Guest Day September 20th 2023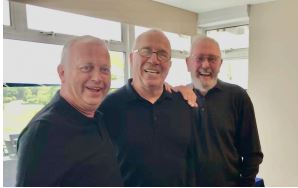 Winners Tommy White and Guest Zip Fermi with Club President Frank Weaver
Wednesday 20th September saw five hours of sunshine and sparkling golf when 30 Members and their guests played the East course BB pairs.
With Prizes for the top 5 places, nearest the pins, straightest drive and three mystery prizes donated by the Club.
There was a £200.00 float which enabled everyone a free entry into the 2 ball sweep, surprisingly only two players (Ian Haggart and John Berry) had 2's and shared the £200.00!
The course was in wonderful condition and drew praise from our member's guests, and the food afterwards was of its usual high standard.
Results: