Seniors Guest Day
The day dawned bright ,clear and warm to welcome 68 senior members and guests on what proved to be the last day but one of a glorious Summer. As well as the .nearest the pins and 2 ball sweeps, players competed over the glorious looking East course in a 4BBB competition for 8 place prizes. Creditable winners on the day were Nigel Gill (17) and his guest from Mike Lyons (19) with 43 points. Mike Lyons thanked his host and complimented all involved especially the green staff for presenting the course and greens to such a high standard.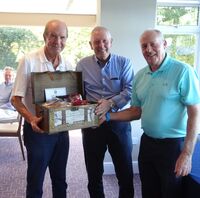 Pictured are Nigel Gill and his guest, Mike Lyons receiving their Celebration Hampers from Past Captain Frank Weaver.
The Prize table with Hampers from Highland Fayre Hampers and Glassware from the Club.
Results (top 8)
| | | |
| --- | --- | --- |
| 1st | Nigel Gill (17) & Mike Lyons (19) | 43 |
| 2nd | Steve Ashton (12) & Richard Allen (10) | 42 |
| 3rd | Chris Hurren (22) & Keith Andrews (19) | 42 |
| 4th | Allan Robb (13) & William Sargeant (21) | 41 |
| 5th | Mike Covill (17) & John Hambly (13) | 41 |
| 6th | Michael Court (20) & Paul Lawrance (11) | 40 |
| 7th | Peter Marsh (11) & Steve Howard (13) | 40 |
| 8th | Leslie May (17) & Ian Whyte (20) | 40 |