Courses update - February 2021
Forestry work has continued around the courses to cut back and thin out overgrown areas, and to remove diseased trees. Our newly appointed Forester, Ross Mackie, has headed this up along with Lee Thorne and other members of the greens team.
Areas of works include:
Left of 7th West – bank thinned and cleared
Behind 5th East – diseased Horse Chestnut removed and area re-landscaped
Right of 9th /10th East – area cleared for management, drainage and better air movement
Right of 18th West – cleared in preparation for a new open ditch to help drainage
Numerous other areas adjacent to the playing surface have been cleared for presentation and to help pace of play.

Projects
Works to improve the area around the 2nd green West were completed before Christmas and are settling in well. The laurel hedge has been removed and the path moved further away from the playing surface. Banks around the green are now wider and softer to encourage better growth.
The 7th tee West has been completely reconstructed – there are now 4/5 sets of tees which will provide different challenges for length of shot and angle of approach. A smooth new path has been cut through the tees to make access much easier. The whole area is waiting to be turfed when conditions allow.

Design
To help provide an extra dimension and challenge, we are introducing run-off areas on 4 holes on both courses on a trial basis. Cutting height has already been reduced but it will take a while to get these areas into ideal condition.
For a clearer view of all the above, we are pleased to be able to showcase the works via some drone footage of both courses – our thanks to Sonny (Asst Engineer) for his help as pilot and cameraman for this. Videos may take a few minutes to download.

Drainage
Last year, the Club have engaged with drainage specialists, 'Turfdry', to produce a report on how we could improve conditions via a system of land drainage on both courses. Their report was based on a topographical survey completed last summer, along with numerous site visits and meetings with the club.
A meeting was held recently to review the findings which look positive. The River Quaggy is integral to the plan, being the primary route /outfall for getting water off the courses. With this in mind, we are investigating ways to increase capacity of the brick culvert and create attenuation areas on sites less critical to playing golf when the river is in times of flood. A CCTV survey of the culvert is being organised to check conditions and look for possible blockages, and contact has been made with the Environment Agency who's permission will be required in order to make any changes to the Quaggy, as a designated 'Main River'.
The Course team believe there is much that can also be done in-house to improve land drainage. A new bigger drain is being installed on the 18th East fairway, 'mole ploughing' has been carried out as a means of secondary drainage on some of the wettest areas, and work is well underway to clear all existing ditches; it has been good to see water flowing in them once again.
Wettest areas of the courses, and areas that lead to course closure, are being identified – these will be the priority areas to install the primary drainage system in due course.
More information on this, and other course works, can be read in the minutes of our recent Courses meeting.

Consultancy
We have been very pleased to welcome Greg Evans (see website), Master Greenkeeper, to the team to help provide further advice on agronomy, drainage and presentation.
Greg has extensive experience of managing clay-based courses and he will be working closely with Paul Rudkin and his team to help improve conditions at SPGC. We look forward to applying the additional knowledge of procedures and processes he will bring to the club.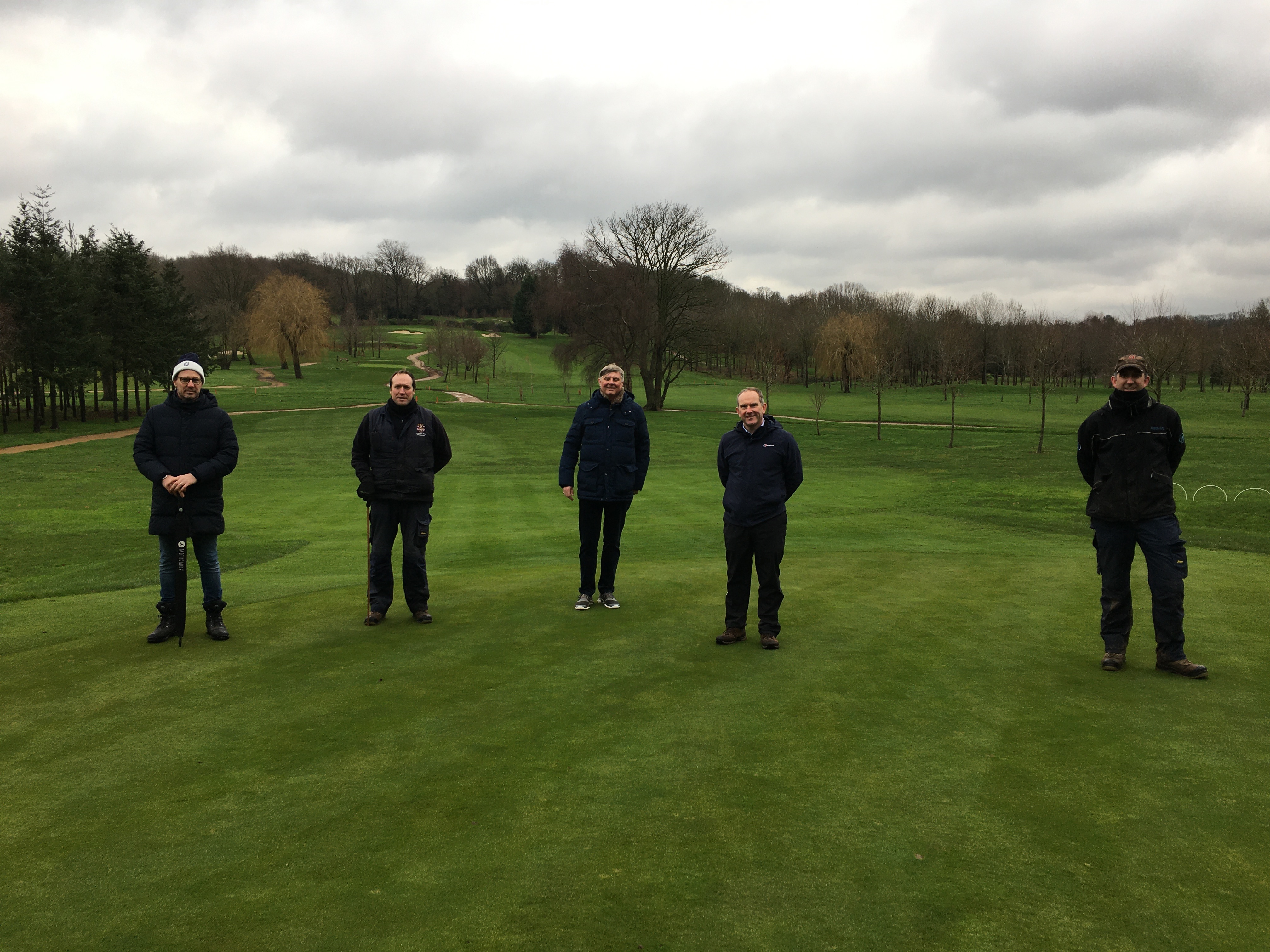 Left to Right: Dan Dring ; Paul Rudkin ; Mark Peache; Greg Evans ; Darren Cuddihy

Driving Range
A review of the range operation and maintenance has been undertaken and works have already started to renovate and improve the facilities.
Thanks to funds raised by the 2019 AmAm, we will be pleased to install a new 'Dry Rainge' unit in March. This will provide an additional 3 covered bays for short to mid iron practice (not woods) and will be located beyond the far end of the range car park. Our sincere thanks to the Am Am Committee for supporting this project.
Alongside this, we will be introducing new targets which will measured from the 3 primary hitting areas to provide more meaningful practice. The centre green is to be removed to make it easier to see where your ball lands.
 
Course Conditions
Though the weather has been a hindrance, we have been able to press on with most of our regular maintenance of the key playing areas. Tees, greens and approaches have been aerated and top dressed as necessary. Our increased spraying regime appears to be bearing good results, with very little evidence of disease at this time.
We look forward to presenting the playing surfaces in good condition when golf returns. In the meantime, please do take care and look after yourselves.
Mark Peache and Dan Dring
Course Directors